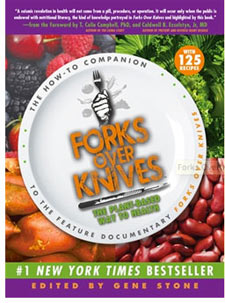 Excerpt from a 09/11/12 post:
"FORKS OVER KNIVES has been a remarkable success. After grossing over $700,000 in theatres, the film has sold over 180,000 DVDs, become a New York Times bestselling book, and created a brand, something very few independent documentaries have achieved. Both fiction and documentary filmmakers can learn valuable lessons from the film's distribution strategy.
The film was the brainchild of Brian Wendel. A committed vegan, he was inspired to create the film after reading THE CHINA STUDY, which makes the case that a plant-based diet can prevent and even reverse disease. Brian recruited John Corry to produce and Lee Fulkerson to write and direct. They raised money from private investors and began working on the film in January 2009. I consulted with Brian and John in 2009 and 2010, and they recently shared with me the inside story of their success.
Test Screenings - As soon as the filmmakers had a rough cut in March 2010, they began test screening it. They showed it to groups of 20 or more and discussed it with them afterwards, made changes, and then screened it for another group. Brian explained that the 20 plus test screenings were invaluable in refining their cut...."
read the full post here:
http://www.peterbroderick.com/distributionbulletins/files/748c288e8ec708ffa44...